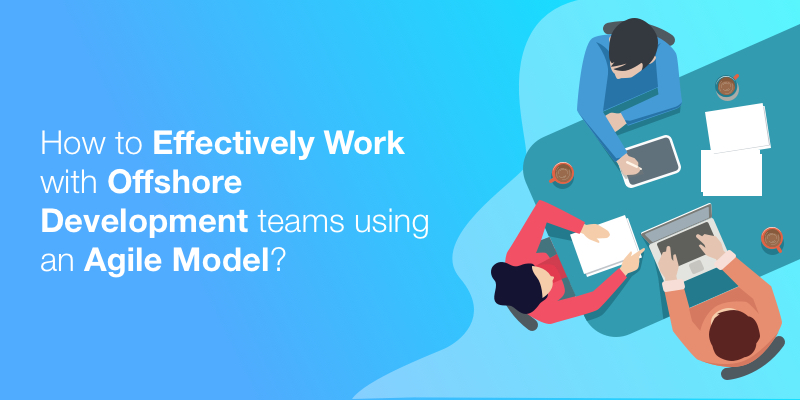 How to effectively work with offshore development teams using an agile model?
Today, most companies are choosing offshore app development for their software needs, in spite of the challenges like the difference in time-zones, language barrier, cultural differences, etc. The immense benefits of offshore development like affordability, availability of a highly-skilled workforce, quality work, and flexibility are responsible for this. Hiring an offshore team gives the leverage of building high-quality MVP to start-ups and small companies; this being cost-effective. Also, agile methodology is a powerful way of project management as it ensures the simplified breakdown of tasks, continuous improvement, early delivery of project and effective team collaboration and interaction. But, the question is how can agile methodology efficiently be applied in offshore app development?
In this article, we will discuss the best ways to efficiently work with offshore teams in an agile environment.
Best practices for a successful agile offshore app development
Agile methodology is already quite popular worldwide due many advantages it provides. Here are a few proven steps that should be implemented to make offshore development work successful.
Use collaboration technology for better communication:
Strong and transparent communication is necessary for the final products to be the best pieces of work. Collaboration technologies help the teams to interact effectively, irrespective of differences in time zones and locations. Project management tools like Trello, JIRA, etc. and communication tools like Slack facilitate information sharing and keep all the team members on the same page. If you plan to hire offshore app developers, you should invest in advanced communication tools and also in high-performance computers, secure Wi-Fi network, video conferencing tools like Skype and Zoom, etc.
Define a vision statement of the product by planning ahead:
It is vital to determine all the tasks and plan accordingly before starting the project. You should consider different aspects like the volume of all the tasks, milestones, timeline for all deliverables, scope, budget, etc. It is necessary to present a complete picture of the project beforehand to the team. It allows the team to be flexible in their app development and research the obstacles proactively and work accordingly.
Invest in training of the offshore team:
If you want your mobile app development to be a success, you should consider training your offshore app developers on the technology you want to use and also about your company and products. They need to thoroughly understand the customer's point of view to develop a profitable product for you. So, training the offshore team is an important practice.
Conduct demos regularly:
Demos are held to show the progress of the team after a certain period called iteration in the agile methodology. For better results, you should conduct regular demos and review if the team has achieved the decided milestones, what obstacles they faced, probable solutions, etc. These demos should evaluate team performance and give constructive feedback to them. All the decisions should be communicated to all team members and well-documented. These demos also help in good collaboration of teams with the clients.
Treat them as your partners:
For a successful project, treat your offshore team as your partners; as an extension of your onshore team. Make sure they align with the corporate culture of your company. Frequent communication through collaborative tools, video conferences, etc. should be conducted for building strong relationships between onshore and offshore teams.
Create a consistent development environment:
Working with the offshore app development team is a tedious job, especially due to the distributed work environment. So, it is necessary to create a development environment that is transparent, reliable, flexible and has less friction. Team members should feel involved and motivated to work. They should be given positive feedbacks. It is advisable to rely more on processes and tools for a positive work environment. Guidelines should be created for ensuring that the team feels supported and effective work.
Summary:
Many experts say that agile and offshore development cannot go hand-in-hand. Some businesses even avoid outsourcing as they follow the agile model for their projects. Agile needs strict following of principles and values, which can be quite tedious while working with a team from a different time zone, location, and culture.
Though, offshore app development is not easy in an agile environment, yet, it can be very productive with the tips mentioned above. The key is good communication and proper planning. The teams can develop trustful partnerships and achieve high-performance.
Hope these tips were helpful to you. If you're thinking of contacting an offshore app development company, you're not alone. There is a pool of experienced and skilled app developers in India. This could a wise option as app developers in India have scalability, flexibility in working and affordable as well.